It's almost time for the Super Bowl! If you are getting ready for the Super Bowl in Austin you definitely need some of these delicious snacks to share with your friends, family, and guests.
Today we're sharing some of our favorite Super Bowl snacks so you can have a great party without stressing over the meal planning. We are also going to share some great spots that you can visit to watch the Super Bowl in Austin out and about!
There are some great sports bars in Austin that will be having a blast with all the Super Bowl themed parties and events on the horizon. Check them out and make your game plan for the big day now!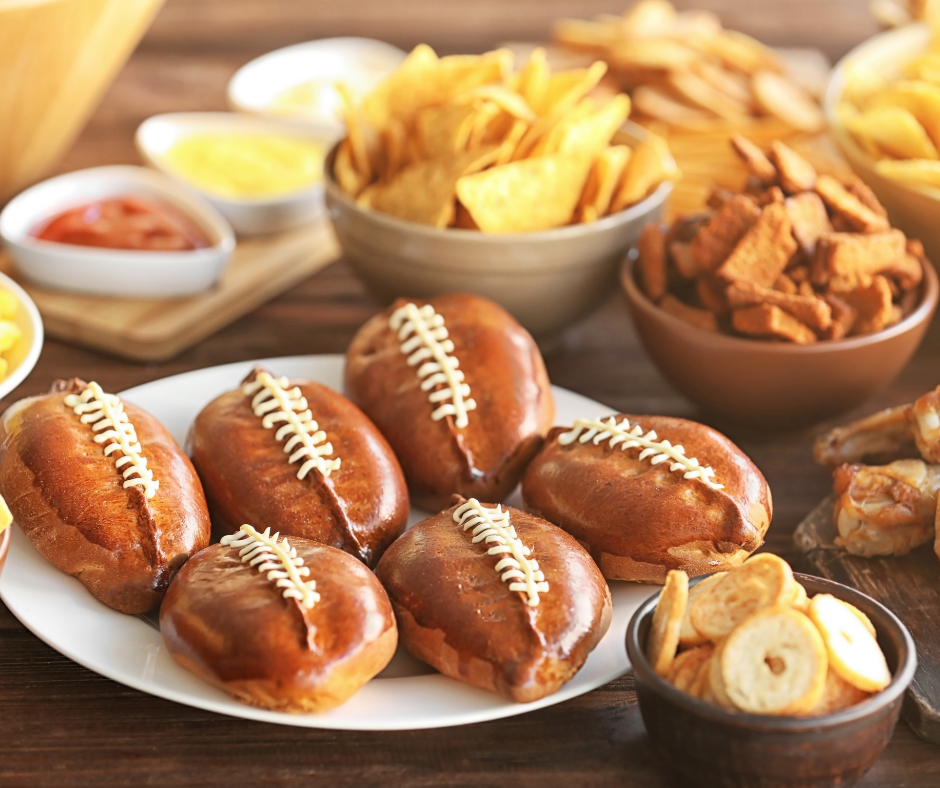 Snacks For The Best Party For The Superbowl In Austin:
Let's start off with some delicious and fun recipes if you are trying to throw a great party at home for the Super Bowl in Austin. There's nothing like a delicious grazing table full of awesome snacks and appetizers to keep everyone in a good mood…someone is going to lose, might as well make sure they're full of tasty treats when the final countdown begins!
If you don't have a great nacho recipe already in your cookbook collection you need to give these a try. It's the king of all nacho recipes and you won't want to miss out. Plus, what's better than some messy finger food for the super bowl?!
Again, if you don't have a tried and true queso dip recipe in your collection you can go wrong with this classic queso dip. It's perfect for serving up with chips, pretzels, crackers, and even veggies for a low-carb alternative.
If you haven't tried making pigs in a blanket before you have to give this recipe a go. It's simple, straightforward, and these little suckers will get gobbled up before you get to halftime!
These jalapeno cheese crisps are simple to make and they're loaded with all the cheesy, bacon-y, spicy goodness you want in a finger food selection for game day.
If you want the classic pizza game day flavors in a pull-apart finger food you have to try this garlic bread pizza dip. It's so indulgent and delicious but it's super simple to make and share!
If you want to serve up a classic without all the added mess of deep frying you can try out this recipe for air fryer chicken wings. You can add whatever flavors you want for sauces or dry rubs but the process is much less messy and these are healthier!
It's like a brand new take on a classic cheese ball. These poppable bites are indulgent, cheesy, and easy to serve and share. No more broken crackers trying to dissect a large cheese ball!
There's a pretty good chance you've had a jalapeno popper bite…but these are a whole new beast! If you are planning the menu for your party for the Super Bowl in Austin you need to include these wonton cups. They're the best of both worlds: a wonton and a jalapeno popper!
It doesn't get much easier in terms of preparation or eating than these chicken avocado roll-ups. They're great to make in large batches and they are the perfect combination of flavors for finger food, lunches, and more!
Need an option that is keto friendly but still fun and delicious enough to serve on game day?! These bunless burger bites on a stick are perfect!
Best Places In Austin To Watch The Superbowl:
If you are not staying in to celebrate the Super Bowl this year you might want to check out these sports bars in Austin. These options are great for watching the game and enjoying the party with a crowd!
2105 Hancock Dr, Austin, TX 78756
2108 S Lamar Blvd, Austin, TX 78704
317 E 6th St, Austin, TX 78701
3616 Far West Blvd # 116, Austin, TX 78731
2020 E Cesar Chavez St, Austin, TX 78702
700 W 6th St, Austin, TX 78701
1901 S Lamar Blvd, Austin, TX 78704
5207 Brodie Ln #100, Sunset Valley, TX 78745
700 E 6th St, Austin, TX 78701
2310 Manor Rd, Austin, TX 78722
7113 Burnet Rd, Austin, TX 78757
2610 Guadalupe St, Austin, TX 78705
8565 Research Blvd, Austin, TX 78758
Multiple Locations
601 W 6th St, Austin, TX 78701
Multiple Locations
2900 Duval St, Austin, TX 78705
1607 San Jacinto Blvd, Austin, TX 78701
6507 Jester Blvd #105, Austin, TX 78750
422 Congress Ave D, Austin, TX 78701
909 N Lamar Blvd, Austin, TX 78703
515 Pedernales St, Austin, TX 78702
600 W 6th St, Austin, TX 78701
922 W 12th St, Austin, TX 78703
2901 S 1st St #102, Austin, TX 78704
114 E Main St, Round Rock, TX 78664
509 E Ben White Blvd, Austin, TX 78704
9000 S IH 35 Frontage Rd #200, Austin, TX 78748
2805 Manor Rd, Austin, TX 78722
The best part is that there are so many options all over Austin. Pick the best location for you! If you plan on partying for the Super Bowl in Austin at these Sports Bars in Austin you'll want to be close to home so you can get a ride and party in safety!