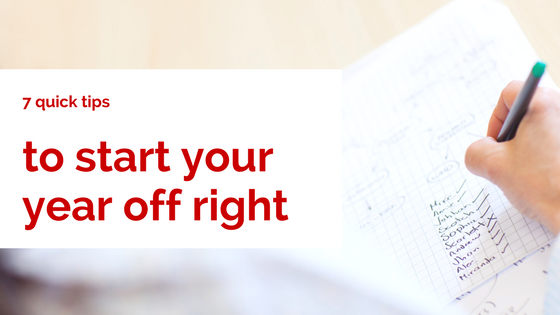 It doesn't take much to start your year off right if you know what you want to accomplish in 2018.  Here at The Place at Terracina, we're making our lists, setting our goals, and doing everything we can to have a successful and positive new year. Here are seven quick tips we'd recommend for you to do as well:
1. Organize Your Home
You don't have to wait for spring to do a thorough cleaning and organizing or your apartment. Go through your clothes, papers, pantry, and other items to see what you want to keep, throw away, and donate. Take everything out of your drawers and cabinets and then put them back in a more organized manner. You'll feel great knowing that you don't have a ton of clutter around your home.
2. Clean out Your Inbox
For the past few years, social media has been pushing for the week of January 25th to the 31st to be #CleanOutYourInboxWeek. Just like you did with your home, sort through your emails to see what you need to keep and what can go in the trash. This also is a good time to set up labels, folders, and archives for your emails.
3. Take a Look at Your Yearly Calendar
With the whole year in front of you, now is a great time to plan out the rest of 2018. Look at how many days off you have from work and schedule your vacations, trips, and holidays so they don't sneak up on you come November and December. You also can mark other important days and times on your calendar at this point.
4. Determine a Monthly Plan
If you made New Year's resolutions, make a monthly plan for how you're going to reach your goals. Schedule days and times each week of the month to work toward your resolutions as well as a check in day to evaluate your progress.
5. Volunteer
Start your year off right with positive actions that help your community. Find somewhere to volunteer on a regular basis, make a donation, or lend your support. To keep you motivated to volunteer all year long, find an organization that you believe in or lets you do something you enjoy.
6. Get Your Finances in Order
One of the most important ways to start your year off right is with a secure understanding of your finances. Saving money is one of the most common New Year's resolutions for a reason, after all. Take some time to look over your finances, devise a 2018 budget, and set financial goals for the upcoming year.
7. Have Fun
Don't forget to have fun this year. Even though goals and resolutions are important, the best way to have a fabulous 2018 is to have fun!